The Hackers!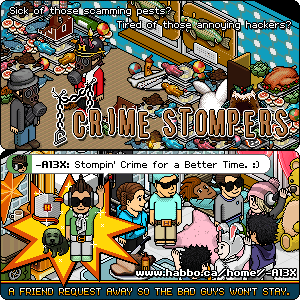 Ok Heres The Deal, Officer
Matty Here Needs Your Help!
Matty: OK!!! Listen up Users We've Got 2 habbo Retro Hackers ON the LOSE, They were last spoted In HabboRetro[Fake] Now We Suggestt That They May be Heading This Way..On Habbo Bobba™....Now Myself And CCRIME STOPERS [ AS YOU SEE IN THE PICTURE OVER THERE>>>>>>>>>] Needs Your Help To!!!! Capture These Two  Dangerous Bobbas!!!They have Hacked And Destoryed 123 Retros for the pass 2 years maybe more..now here is where you Bobba Hotel™ Users Come in, These two Bobbas! are wondering around your hotel...Planing and Eatting POPTARTS how too hack your retro, now the information we found out is that 1: they ethier go after your habbo accounts or KILL you...now we your Bobba Hotel ™ Founder/Owner Typos, Had a Strange Feeling that his sever was going BIZZARD!...He was Rigth, it Was SUPER LAGGY and this hotel is Anti-L/Werid huh? ok never mind that they are wondering around Bobba Hotel™ GuestRooms And Public Rooms, Hey! how do we know this...0.o well..We locked on GPS Exe V.244[Military Use] On one of the BobbaS! Jacket Pocket..Typos, Can i are keeping a look up in the Habbo Island™ Security Room[Typos,] SOoo Keep your Gaurds Up FOR A Bobba of a Suprise:
We will send you a Message on the Hotelalert Leting you know where and what room the two bobbas are THANKS to our GPS Exe. V.244/
Two BOBBAS
Bobba 1: Name: Jim Jones Gender:Male Fake name: Santio  :Age:19
Bobba 2: Name: Alex Guns Gender:Male Fake Name: Enzo :Age 19
HERES THE LATEST PHOTO OF THE BOBBAS!! All Habbos Who Find These Bobbas Will Be REWARDED!
Officer Matty
Heres A The Latest Photo of These Two BOBBAS!